By: Bridgette Austin
It's Sunday morning in New York City and you're on the hunt for a brunch-worthy restaurant that will wow your taste buds in a neighborhood that also piques your curiosity during a post-brunch stroll. At NYC's northernmost point, you'll discover both in Riverdale, one of the city's best kept secrets and a top culinary scene in the Bronx. 
Start Off with an Early Afternoon Brunch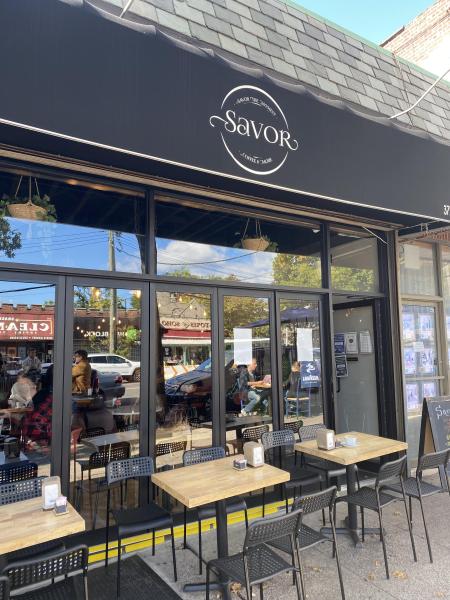 Take the 1 train to either the 231st or 238th stop, and you'll find yourself within walking distance from a variety of restaurants—from traditional Spanish cuisine like Malecon Restaurant to hip gastro pubs such as The Bronx Public. 
But for a brunch destination that offers a cosier vibe, make your way to Savor on bustling Riverdale Avenue. Opened in 2021, this coffee shop brings a European cafe experience with a dash of Bronx flavor. Inside this quaint neighborhood hangout, you can sip Lavazza coffee from comfy couches or order a quick bite like the Avochetta avocado toast from their breakfast and lunch menu. 
Looking for a decent-sized brunch menu with a Latin twist? Two doors down is Cocina Chente, which bills itself as "artisan Mexican food [with] fresh handcrafted cocktails." Star dishes include their fresh made-to-order guacamole, nachos, and huevos divorciados. 
Best of all? Both Savor and Cocina Chente have plenty of airy outdoor seating to make you feel right at home.
Walk Off Your Meal With a Trip to the Farmers Market
What NYC Sunday brunch is complete without an afternoon stroll through the neighborhood and some local shopping? 
After your meal, head northwest on Riverdale Avenue past Bell Tower Park to check out the Sunday market at the Riverdale Y. It's about a 10-minute walk from Savor (a little longer from Cocina Chente), so make sure you wear good walking shoes to enjoy your post-brunch excursion in comfort! 
 The Riverdale Y Sunday Market is a seasonal farmer's market that runs between April and December. It also takes up the entire Y parking lot, so it's hard to miss. Make your way down to the dozens of vendors selling everything from sustainably raised, certified organic coffee (Don Carvajal Cafe) to hand-fashioned jewelry (Playful Event Jewelry).
If you still have room to fit in a few more bites, you can sample decadent cheeses from The Cheese Guy or select from an assortment of bagged cookies from the Cardamom Man. 
Avid book reader? Bronx Bound Books offers a wide selection of kids books and children's literature. But don't stop at their table. Step inside the Bronx Bound Books van to explore their mobile bookstore complete with shelves of adult and children genres, as well as simple yet creative stationery and knick knacks for your writing needs. 
Take a Pause with Nature at Ewen Park
From the Riverdale Y, you'll be about a 25-min walk from the nearest subway station. But if you want to get your steps in and skip the Uber, head back across the pedestrian footbridge that crosses the Henry Hudson Parkway, then make a right on Johnson Avenue. The street will take you as far as the commercial district on 235th Street and wind around Ewen Park, one of many parks in Riverdale. 
As you descend down Ewen Park's stone steps, you have the option of continuing straight down the path, which ends on 231st Street. However, if you have time to stop and rest, there are seating areas near the park's playground. You can also take advantage of the outdoors by relaxing, reading, or people watching on the park's grassy hill before wrapping up your Riverdale visit and hopping back on the 1 train.
​