Just south of South Australia's capital city of Adelaide is the McLaren Vale wine region. Bounded by nineteen miles of pristine coastline to the west and gently cradled by flowing, undulating hills to the east, the area swells with world-class food, wine, and charming townships.
Where to Start
An easy drive from Adelaide via the Southern Expressway will have you in the heart of the vineyards in forty smooth minutes. McLaren Vale is home to ninety wineries. The Visitor Information Centre, on your left, as you enter the township, provides a map highlighting the cellar doors plus boutique breweries, distilleries, and accommodation options.
Willunga Farmers Market
Prepare your tastebuds with a visit to the Willunga Farmers Market. The hamlet of Willunga is a ten-minute drive further south of McLaren Vale. The market is held in the town square every Saturday from 8.00am - 12.30pm. Local producers sell fresh fruit, vegetables, meat, bread, pastries, olive oil, eggs, and honey in a village atmosphere. I like to grab a bite to eat or a coffee from one of the stalls, sit back under a shady tree and enjoy the acoustic tunes as I watch the locals mingle and stock up on fresh farm goods.
Time for Wine Tasting
Returning to McLaren Vale, it's time to taste what the region is renowned for - wine! With a climate to mirror the Mediterranean, Italian grape varieties thrive here. Call into Primo Estate on McMurtrie Road and refresh your palate with their white wine range, including La Biondina, Verdicchio, and Prosecco. The Prosecco is rated 'numero uno' in Australia. Taste their cold-pressed olive oil with freshly baked, artisan bread. While the oil is pressed at low temperatures to capture the olive's most vibrant, intense flavors, you'll remember the bread long after you leave McLaren Vale.
Lunch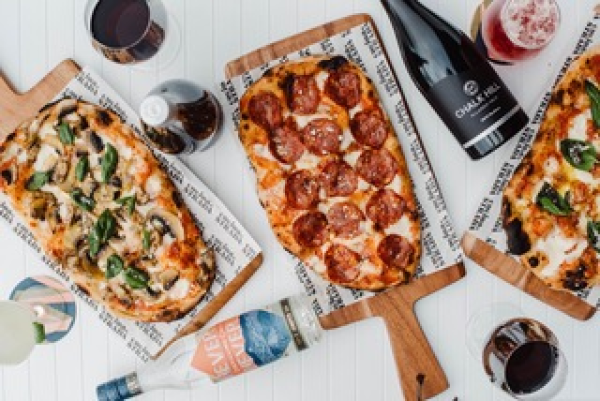 The 'Collective' on Field Street delights all palates. It's home to Never Never Gin Distillery, Chalk Hill Wines, and Cucina di Strada. Prop yourself up at a high, outdoor table or sprawl out on the lush green lawns and take in a vista that stretches for miles over the valley. Try a Pinsa - part pizza, part focaccia. It's a 'cloud' of pizza with a delightful, crispy texture outside and a soft inside. Served on a wooden paddle, topped with baby Roma tomatoes, basil, garlic, and salami, it's Italian Street Food at its finest. I can't resist the arancini or meatballs with their home-made passata. The low tannins and high acidity of the Italian red wine, Barbera, makes it my choice to pair with the rich sauce.
Dinner - Salopian Inn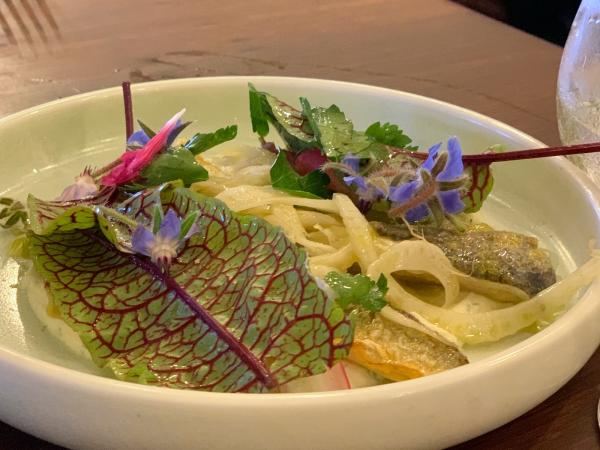 At the Salopian Inn, on the corner of Main and McMurtrie Roads, the seasons dictate what you'll find on the menu.
They have cultivated an organic kitchen garden that provides most fruit, vegetables, and herbs for the restaurant. Added to locally sourced pasture-fed beef and lamb, free-range poultry and pork, and Australian caught seafood, you're assured of the freshest, and best quality produce. Menu choices for the sweet tooth are extensive. The rhubarb and frangipane tart with Caramelised White Chocolate Cream + Rhubarb Sorbet is a standout.
Whet Your Appetite for More
Despite its 'small country town' feel, the region of McLaren Vale punches above its weight, delivering wine and cuisine equal to anywhere in the world.
One day just whets the appetite for more.
About the Author